Marcus Ward & Co
In the second half of the nineteenth century an enterprising Belfast family created Marcus Ward & Company a stationery, colour-printing and publishing business that gained an international reputation for the quality of its products.
In 1867 Marcus Ward & Co of Belfast established a London office and showroom in Chandos Street, Covent Garden.
By 1872 it was evident the thriving business was in desperate need of larger premises in Belfast where the firm's manufacturing base was located. The new building, custom built with five floors, was finished in 1874. It covered four and a half acres and was named the Royal Ulster Works.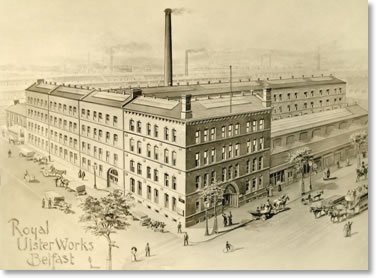 "Here is a house, one of the earliest in production, with a record that reaches the highest level of decorative excellence ever touched by the Christmas card. This firm for a while monopolised the whole of the better-class trade. Beginning with the use of German chromos, usually mounted on card with lithographed borders in gold and colours of home manufacture, they soon issued reproductions of original designs by artists of repute, and gained a position where they stood without rival."
"Christmas Cards and their Chief Designers" by Gleeson White
The Studio, Special Christmas Issue, 1894.
By the mid 1890s the firm was struggling and went into dissolution in 1899. The rival Belfast firm of M'Caw, Stevenson & Orr reached agreement with the Liquidator by the end of 1900 to purchase the entire business and goodwill of Marcus Ward & Co.
From top
Marcus Ward Christmas card
The illuminated style which distinguished the best years of Marcus Ward production illustrating the use of a German chromo tipped in for the central illustration.
Gate fold card
146 x 108mm (5¾ x 4¼in)
The Royal Ulster Works
Presentation Calendar for 1878
152 x 114mm (6 x 4½in)