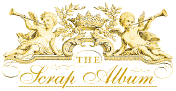 A Gossip about the Day
In mid-Victorian England the custom of sending daintily printed valentines, overflowing with hearts, cupids and poetical posies was generally understood to consist of an exchange of missives between special loving friends.
Yet beneath the sweet exterior and tender words of these lace-paper beauties lurked something far more sinister - the comic valentine !
These scurrilous printed sheets, entered into the humour of the common and middle classes, fun and mischief were their elements.
In reality they were masterpieces of the grotesque, venomous in humour, spiteful and rude, expressing anything but love.
Custom of the Month - February 1848
On the Fourteenth of this month, a custom prevails among female servants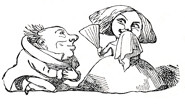 of neglecting to clean windows, scrub floors, make beds, wash plates and dishes; of letting joints burn, pots boil over, and their work in general remain undone, in order to loiter at area doors looking out for the postman and a Valentine.
Opposite
Comic valentine by A. Park, London
127 x 209mm (5 x 8¼in)
1840s-50s
You would like to wear them dearly,
And in faith, you mean to try,
But, old girl, I'll tell you truly,
Your attempt is ALL MY EYE.
It will not fit, my downy one,
So fairly I would tell,
You had best but take the duty,
Of leading APES IN HELL.*
* Very few people seem to know that "lead" in Tudor English means to have sexual intercourse. The proverb means that women who take no part in the sexual activity of society for whatever reason will be punished by being served by apes in hell. This is not a punishment for chastity (a faithful spouse is chaste) but for failing to spread joy in the world by healthy activity. When Shakespeare mentions "leading apes into hell", he is being allusive, as he so often is when the real matter is coarse. His audience would have recognised the allusion immediately.
Hugh Hetherington, Salisbury, England