Valentines: Highlights from the Collection at The Fitzwilliam Museum
Author: Rebecca Virag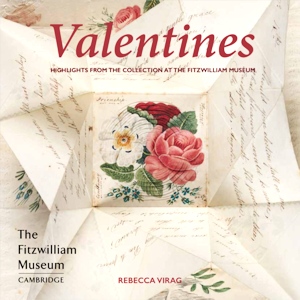 the Fitzwilliam Museum has a large collection of around 1,600 Valentines, which range in date from the early eighteenth century to the 1920s. The vast majority were left to the Museum in 1928 by mathematician and Fellow of Trinity College, J.W.L. Glaisher.
Two more Cambridge alumni, the Rev. Herbert Bull (Trinity) and Sir Stephen Gaselee (King's) also gave their much smaller collections of valentines to the Museum in 1917 and 1942. The Bull valentines are particularly fascinating as they are rare survivals of mid-eighteenth century silhouette cut-paper work and are unlike anything collected by either Glaisher or Gaselee. The Glaisher collection alone is one of the largest amassed by a single collector currently in a UK public collection.
The Glaisher valentines have not been seen in public since 1995, some twenty-three years ago and since then the entire valentine collection has been catalogued, researched, photographed and re-housed. This selection of highlights has been published to coincide with a new display of some of these extraordinary objects as part of the exhibition, The Object of my Affection: stories of love from the Fitzwilliam collection (Until 28 May, 2018).
Dashers and dandies: elegance or vanity
Victorian valentines and the the artifice of dress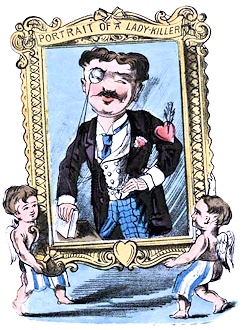 Ephemera Society member Julie Anne Lambert's post on the Bodleian Libraries blog gives an insight into the fashions depicted on the Victorian valentine.
Men and women were equally lampooned. One of the aims of the valentine's satire was to expose to general derision a classic lower class character with upper class aspirations. It is said that delicacy is a great virtue, well there is no shortage of indelicacy to be found amongst these Victorian comic valentines.
The John Johnson Collection of Printed Ephemera has collaborated with the National Valentine Collectors Association to create an exceptional resource over the past few years for everyone interested in the history of valentines. This year's theme, just uploaded, is Fashion and dress: satirical and sentimental.
Visit the collection on Pinterest