Bloomsbury Ephemera Fair
26 August 2018 · 9.30am - 3pm
The fair will include all of the following: books, ephemera, maps, prints, posters, postcards, photographs and many unusual printed items across the whole of the Galleon Suite.
Ephemera 39 Annual Conference and Fair
14-17 March 2019
Immigration is the theme of Ephemera 39, the 2019 Ephemera Society of America Conference and Fair in Old Greenwich CT.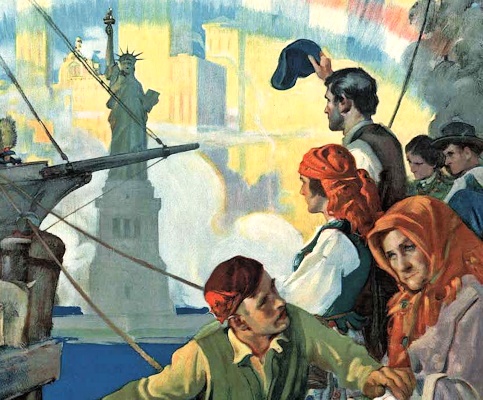 Presentations will range from early American history to the present, each speaker covering a topic, focusing on the tangible ephemera - broadsides, posters, tickets, menus, programs, cartoons, advertisements, etc. - that tell the immigrant story. Graduate and undergraduate students will present their research at the Young Scholars Panel to be held preceding the conference on Thursday, March 14.
On Saturday and Sunday, the ESA will present its widely-anticipated Ephemera Fair. Considered by many the best in the country, the show brings together exceptional material from a wide spectrum of knowledgeable and experienced dealers.
New York City Book and Ephemera Fair
9-10 March 2019
New York City Book And Ephemera Fair provides book and ephemera enthusiasts with the opportunities to discover antiquarian books, manuscripts, modern first editions , autographed historical documents, fine & rare books, old books, old maps, artist books and much more during NYC Rare Book Week.
Printing a modern world: commercial graphics in the 1930s
Until 19 August 2018
Distinctive examples of small commercial 'jobs' from British, European and American graphic designers reveal the daily lives of ordinary people during a time of rapid change and technological innovation.
Biting Wit and Brazen Folly: British Satirical Prints, 1780s–1830s
Until 22 August 2018
Printed satirical caricatures were inescapable in London during the 1700s and 1800s. Often lighthearted and cheeky upon first glance, the images could also be mulled over and picked apart at leisure. A bawdy scene or grotesque facial expression instantly amused, while closer study revealed deeper literary or political references. Whether a fashionable dandy or a poor chimney sweep, no one escaped the scrutiny of caricaturists.

© 2018 Philadelphia Museum of Art
This exhibition reveals the widespread appeal of caricature in Georgian England and demonstrates the ways in which such images teased and provoked audiences. Featuring over sixty brightly coloured etchings from the Museum's large collection of British satirical prints, it presents images of the everyday with a riot of color and a roar of laughter.
At Last! Votes for Women
Until 31 August 2018
Only 40% of women got the vote in 1918. Working class women and under 30s had to wait another 10 years.
This exhibition features archive items and objects from the Women's Library collection – including three banners, sashes, badges and much more – to show the campaign methods of the three main groups for women's suffrage, the Women's Social and Political Union (WSPU), the National Union of Women's Suffrage Societies (NUWSS) and the Women's Freedom League (WFL).
It concentrates on the last (and often bitter) years of the long campaign of the struggle for women's right to vote from 1908 - 1914, with the inclusion of prison diaries and leaflets detailing tactics, such as 'rushing' the House of Commons.