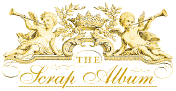 Site at a Glance
The easy way to find what you're looking for
The Scrap Album - Home Page Number of pages: 1
Introducing the drawing-room archive - the scrapbook or album.

The Album Number of pages: 4
Notes on Victorian scrap albums and scrapbooks, including pages from an 1840 album, and details on the album frontispiece.

The Victorian Scrap Number of pages: 21
Notes on the development, production and application of the scrap, stamped embossed relief or die cut.

Father Tuck's Complete Picture Maker Number of pages: 1
This boxed circa 1930 set sums up the beauty and wonderment of playing with scraps as a child.

Reward of Merit Number of pages: 1
The Reward of Merit was given by the teacher to a pupil for punctual attendance, good conduct and improvement at school.

The Calendar Number of pages: 1
A New Year gift that stays with the recipient long after the other greetings have left the mantlepiece.

The English Lotteries Number of pages: 1
"A Lottery is a taxation upon all the fools in creation !"
A small selection of Lottery handbills and engravings dating between 1800-1826.

Lace Paper Valentines Number of pages: 14
For the British the love affair with lace paper was deep and lasting. Attractive Valentines accompanied by quotations taken from newspapers and magazines of the period.

Comic Valentines Number of pages: 12
A laughable and quizzical collection of Merry Valentines for persons of both sexes ! These scurrilous printed sheets, entered into the humour of the common and middles classes, fun and mischief were their elements.

Easter Frolics Number of pages: 7
A small display of Victorian greeting cards based on the theme of Eggs at Easter-time.

Greeting Card Publishers Number of pages: 21
Victorian Greeting Card Manufacturers for Christmas and the New Year. A brief introduction to some of the more popular greeting card publishers and printers.

A Victorian Christmas Number of pages: 14
Victorian greeting cards, scraps and ephemera are used to recreate the ambience of a Victorian Christmas and New Year season.

A Christmas Menagerie Number of pages: 10
All kinds of creatures, find themselves portrayed upon the Victorian Christmas and New Year greeting card.

In Fairyland Number of pages: 6
What strange sights are to be seen in Fairyland ! Victorian Christmas and New Year cards present a world of fantasy represented by elves, goblins and those mischievous little folks, the nixies and pixies.

Ephemera News, Events & Exhibitions Number of pages: 1
Dates and details of The UK Ephemera Society's Bazaars and Special Fairs, topical news related to printed ephemera and exhibitions.

Links to other Websites Number of pages: 1
Interesting links to related sites.

Contact - it's easy to get in touch Number of pages: 1
Your comments, questions and greetings are always welcome.

Copyright Statement Number of pages: 1
If you would like to licence material from the The Scrap Album collection, reproduce material or are uncertain if you are about to breach The Scrap Album copyright terms please read this page.