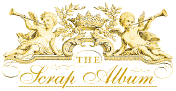 These specially produced prints, also referred to as title-page prints, were bought by album enthusiasts and are often to be found in albums of the 1820-50s.
Above
Cut out frontispiece print of blind beggar and son. "Scraps thankfully received" on man's pocket and "For Donations" on brim of boy's hat.
In a continuing quest for novelty, the publishers explored every variation of the "scraps" or "donations thankfully received" theme. Reflecting high society's charitable leanings beggars were often depicted in these prints.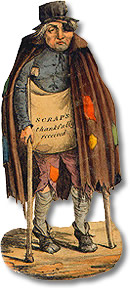 Cut out frontispiece print of beggar
"Scraps thankfully received"
by E. Hull, March 1825
Opposite
"Pray give a trifle" by E. Purcell
Printed by W. Day
59 Gt Queen Street
Published by S & J Fuller
at The Temple of Fancy,
34 Rathbone Place, 1826
Return to The Album
The Album Frontispiece
This delightful example of the frontispiece genre has been created on finely made lace paper manufactured by Joseph Addenbrooke circa 1850s. The central design consists of an hand-painted illustration of a begging dog. "Scraps thankfully received" is written on the cover of the small album held in its mouth.
Surrounding this lively painting is a decoration of flowers and leaves, the larger ones have been hand-crafted and painted and applied by their bottom edge to the paper background so that they could be lifted to show a one word personal attribute written underneath. In this example sixteen such qualities can be found including Joy, Affection, Sincerity, Gratitude, Love, Happiness and Fidelity.
At the bottom is an amusing spoof advertisement from The Times addressed "To the Lovers of the Fine Arts - Wanted a few subjects to place in an Album the choice of which will be left to those who may please to offer their services!"